Hi there, f-list! Long time no see. How is everyone doing?

My life has been insane these past few years, but I've somehow survived. I may try to post a general update later on to this blog. But in the midst of all the chaos life has been throwing my way, I've decided to start getting back into crowdfunding again, so I started a new community,
silverflameart, run on my
shadowsculptor account. Last week was quite a time, getting things ready for the new blog! It feels wonderful to be getting back into the swing of things again. Anyway, it's Monday, which means that I am opening for $5 sketch prompts from now until 5 p.m. CST. This is a weekly event on the new blog--$5 Sketch Day.
The concept is simple: Go to
silverflameart, leave a prompt in the comments of the Sketch Day post, a short description of something you'd like to see me sketch. Use the payment button at the bottom of the entry on my blog to pay, and I'll post your sketch both in a reply to you in the comments and in a personal message, where I will link you to the full-sized file.
Also, the first three prompts are free!

So, come on by and leave your prompts! Please be sure to read the info on the blog post carefully before requesting.

Some sample sketches: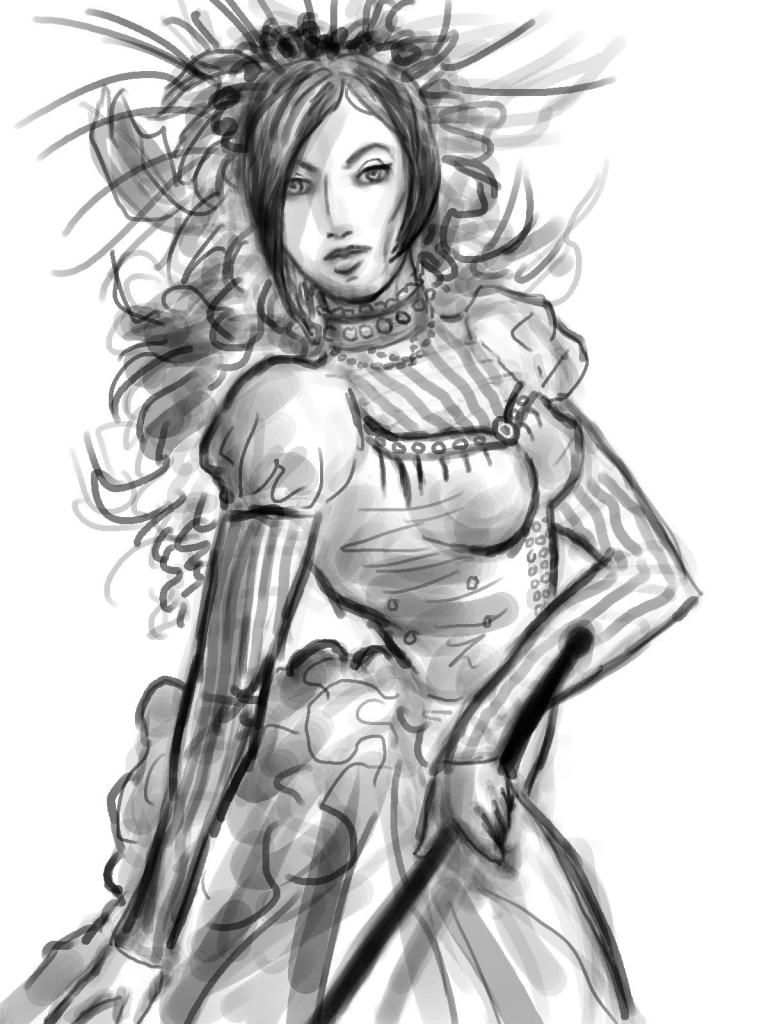 amylaslair
that I post to periodically), but I thought I'd come by to invite anyone who may still be following here to my site,
Beyond Flatland
.
I've recently given it a makeover, because something had been missing from it. I strengthened its social networking structure
(it's all under Symposium) to encourage more participation. I've also divided the site into two sections: the social site (which is free) and the network, where members can purchase paid hosting and build their own sites.
The theme is still a community for the mystically creative, and I'm incorporating an invitation to create accounts for your characters as well, to interact them on the site as if they were real-world members. I've a few examples of this, if you'll page through the forums and chat room (The Lounge, under Symposium), in Trick and Evelyn Alvar, two of my own characters. I want to go about this in a way that creates the feel of a gateway to other worlds, where disbelief is suspended into something magical. Take a look at the
Persona Accounts
page for some of my thoughts on the matter.
But, please do come by and take a look! We have all sorts of fun little features, like personal blogs and groups, private and public chat, and of course the forums. If you'd like an account, go to the Register page and fill out the form, and I'll create an account for you. I've implemented manual user adding because I had so much trouble with spam on the old site.
I hope to see some of you there!
I know this LJ has gone mostly dormant (if any of you still want to follow me, I have a new on at


I don't know. I have so many blogs online and I just seem to cycle through them. I miss the days of LJ, though. I miss many of the people I used to talk to on here. I miss feeling connected. I've felt so distant and isolated and sequestered lately, and I've grown sick of it.

I may see about writing a long update post sometime today.
In some ways, I've almost forgotten that I have this journal. I haven't made any actual blog posts here in a very, very long time. (I don't know if I'd consider my drive-by art posts and web site links to be blog posts. lol)
beyondflatland.net
! It's really starting to come together now, and has a few members, but we could definitely use more. It is a place for the creatively mystical, those who seek to touch other worlds through their art form (whether it be art, writing, music, etc). It's not just for artsy types, though-- it's for anyone who longs for that touch of the otherworldly in life. We're open for submissions to the Otherworlds Gallery, and you're free to also share your work as you will in the forums. There are also forums covering a broad range of discussion topics, the capacity to build your own blogs/sites, user profiles, and more, so come take a look and register if you will!
Silverflamegraphics.com
is my new artistic home on the web. It's the hub of all my current work, from crowdfunding campaigns to personal work. I'll be hosting events, prize drawings, and more on there. It, too, has membership capability, and a forum covering various artistic topics, though it isn't a multisite network so you can't make your own blogs.
I'm still ironing out the details on both of these sites, but they are up, running, and ready for members and participants, so come on by and take a look!
So, my pet project, Beyond Flatland, has found its permanent home at
Detail of "Winter Queen," one of my several WIPs. Working on her face right now, will probably move on to the clothing next. She looked far more… powerful, alien, and otherworldly in my head at first. My mind couldn't really process the visuals though, so she ended up looking more like this.
Faestock
for the female figure reference and
Project-GimpBC
for the grass brush)
Well, I set aside "Knowledge is Power" for a few days because the face was giving me fits. I'll get back to it soon, but in the meantime, I'll share the illustration of a role play I'm doing on Tumblr that I did while shelving the other piece. (Edited to upload a version with some corrections. Oh, and OMG, I completely spaced on giving reference/brush credit when I posted this here.
Beneath cut because NSFW (female frontal nudity). Line drawing and a crop from the WIP. (I made the hair layer invisible so I could focus a bit on anatomy)
(
Read more...
Collapse
)
My new WIP-- "Knowledge is Power".


Life is.... life. I'm still caretaking full time for my grandmother, which is trying, but we're all pushing through. Frankly, the worst of it is seeing how the disease has eaten away her mind, her personality, everything that she is. But I'm glad that she is with family and in a loving environment, even if she's getting to where she doesn't know who we are more and more often.

Our state-provided help literally only consists of an agency sending out someone for about 30 minutes to an hour, five days a week. They help put her on the toilet, and give her a bath twice a week. They help with some of her supplies as well, bringing out diapers and such.
All my lovely intentions of keeping up with LJ keep falling to the wayside. I think a part of it is that it's just so quiet here.
Mini-prints have been sent out! You guys should be receiving them within 7-10 business days. :) Thank you again for your contributions!